The tour encompasses three unique experiences for all age groups and lasts approximately 1.5 hours, or longer if you reserve a private charter.
The Sea Racer crew will give you a narrated tour along the route from the moment you depart. The tour starts out from our dock in the Little River Fishing Village and takes you along the Intracoastal Waterway where you'll see some magnificent properties only visible from the water. Then you continue through Little River Inlet and out to the ocean in search of dolphins.
Your crew will point out some of the fascinating scenery and share some interesting facts about the history and significance of the coastline and uninhabited islands along the way. Weather permitting, you'll then pass through the jetties that connect the inland waters and busy Intracoastal Waterway to the Atlantic Ocean where you'll have a chance to search, and likely see dolphins in their natural habitat.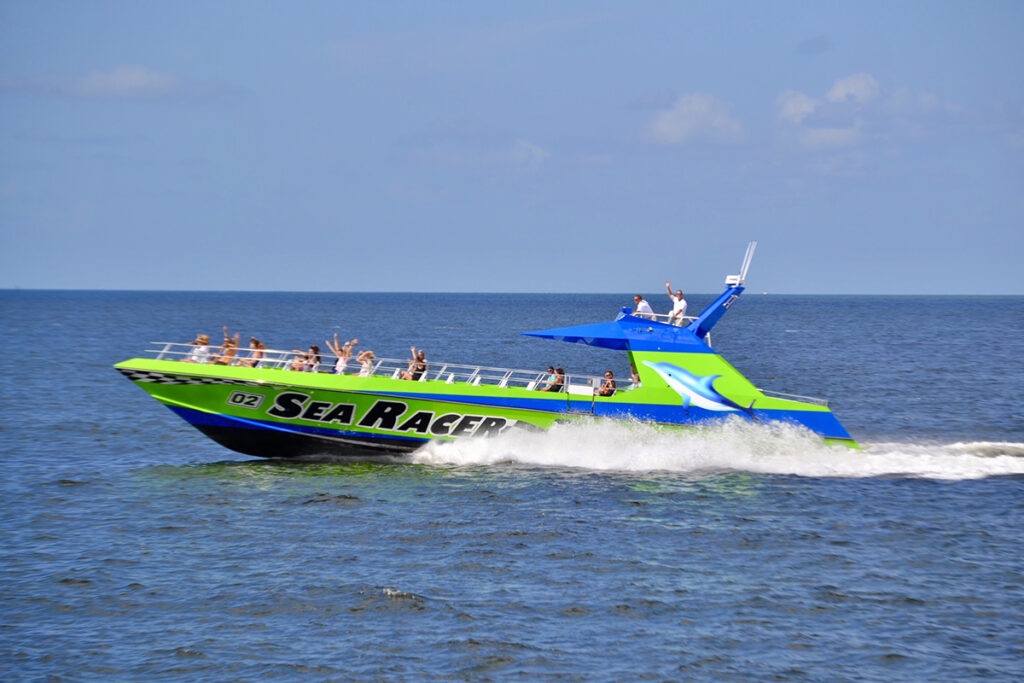 Sea Racer is the newest and fastest speed tour boat in the area. It's a 70 foot fiberglass and aluminum passenger vessel , custom built by Ocean Rockets and powered by two turbocharged CAT diesel engines totaling 2300 horsepower. This offshore style race boat will give you a thrill ride of a lifetime at speeds of 35 miles per hour.
The boat is USCG certified to comfortably seat 128 passengers and will zip along the Intracoastal Waterway giving you the excitement and experience of being on a large speedboat.
After you've traveled at speeds up to 35 miles per hour along the Intracoastal Waters and coastline you'll need a break to catch your breath.
This is when we slow down and look for dolphins that are usually feeding in the waters around Little River Inlet where the shrimp boats are fishing.
You'll have an opportunity to take some pictures and possibly see dolphins in their natural habitat. With some coaxing from the viewers you may even get the captain to make a large wake behind the boat these playful creatures almost always love to jump in.
After the show we crank up the rockn' sound track and turbo charged engines while we race back to shore with the wind in your face and thrill in the air.
Once inside Little River Inlet there's another opportunity to see more wildlife around the islands and coastline, and you'll also get a chance to see plenty of boats and watercrafts to admire along the way.