Our dolphin cruise is a unique experience that is FUN for all groups and lasts approximately 90 minutes.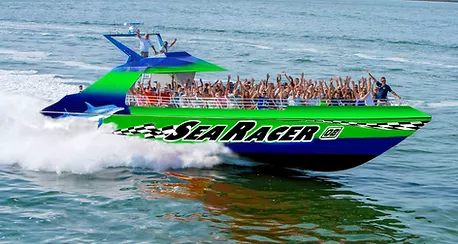 Sea Racer is the newest and fastest dolphin tour boat in Little River. You will see our local dolphins in their environment and learn about their habits and habitat all while enjoying the trip from our large, comfortable speed boat. 
We will take you along the Intracoastal Waterway and Little River inlet searching for dolphins, while giving you a narrated tour and offering an opportunity to take some pictures and possibly see dolphins in their natural habitat. With some coaxing from viewers you may even get the captain to make a large wake behind the boat these playful creatures almost always love to jump in. This is an adventure that is sure to be fun for all ages!
This offshore style speed-boat will give you the thrill of being on a speed boat traveling at speeds of 30+ miles per hour combined with the comfort of being on a large stable tour boat that has a restroom and plenty of space to move around. The boat is United States Coast Guard (USCG) certified to comfortably seat 128 passengers. 
See why Sea Racer is the best dolphin cruise in Myrtle Beach
One look at Sea Racer 02 and you can see that it's a spacious vessel with ample seating. It has a V-shaped hull and there's no shortage of dolphins who love to play in its wake! ​ To find dolphins as quickly as possible, it's capable of reaching speeds of 35 miles per hour (30 knots). But it offers a steady, stable ride sitting up high over the water. ​ This is not like a jet boat ride where you have to get harnessed into your seat. We will not be doing 360's in the water, causing your head and neck to be jerked around. ​ Even through choppy seas, Sea Racer handles waves smoothly. And unless it rains, you probably won't get wet.
Ready to get your cruise on?